Carpet Installation London
Residential and Commercial Carpet Installation
We want your purchase experience to be as good as you do. We want the fitting service to go as smoothly as possible with the minimum of disruption and inconvenience, and for you to be delighted with your new flooring and by our friendly professional service.
We would like you to remove the old flooring and furniture but if this is not possible we can arrange for this to be done for you, just ask.
Old carpets can be very heavy and dusty when you remove them so a well ventilated room is advisable. You may need help to remove the underlay and carpet but if you can cut the carpet in small rolls this will make disposal easier for you, finally vacuum the floor to remove any remaining dust or dirt.
We would always advise you to renew any underlay to get the best possible life from your new flooring and to benefit from the manufacturers guarantee.
Installing carpets and flooring is a difficult job, it is important that all items are removed from the room to avoid any problems and to allow our fitter to install it to British Standard fitting requirements but more importantly to your satisfaction.
All our fitting work comes with a Carpet Foundation guarantee but if in the unlikely event you experience any problems with your installation we will rectify it at once.
Sometimes, especially when fitting deep pile carpets, wood or laminate flooring, your doors may need to planed or cut to allow them to shut, this can be arranged at an additional charge or we can remove them for you to cut later.
There are some occasions when seams are unavoidable, however the modern methods now available ensure these have no detrimental effect on the performance of the carpet.
But it must be pointed out that no seams are ever invisible and we will always endeavour to position them out of sight.
We will always discuss this with you on site prior to installation.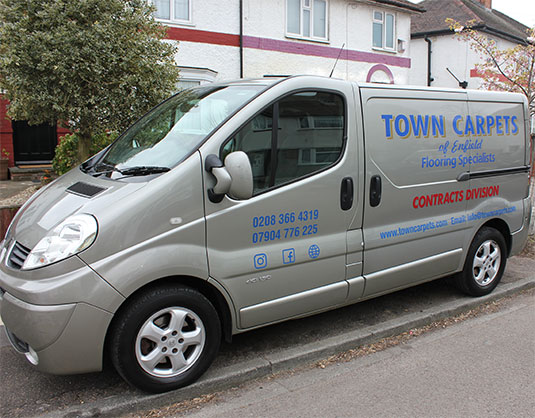 Residential and Commercial

Carpet Fitting

We understand the upheaval of replacing your flooring so we guarantee that we will not let you down.